Reliable HVAC Repair In The Oklahoma City Metro Area
Keeping HVAC equipment well maintained and addressing necessary repairs at the first sign of a problem is essential to extending the unit's life and minimizing costly repairs.
The team of residential HVAC repair technicians at Hibdon's Heat and Air in Oklahoma City are properly trained and educated to perform quality repairs on all makes and models of HVAC equipment.
Even if our crew didn't install your home's heater or air conditioner, you can have confidence that we have the knowledge and skills to service your system. Contact us for an appointment today.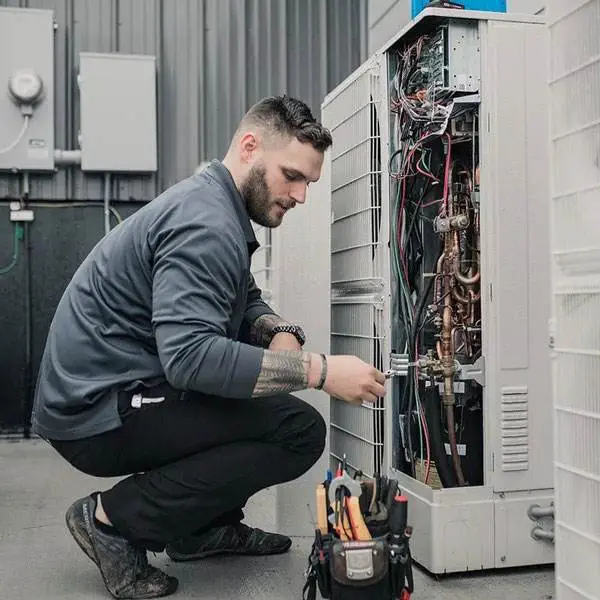 Emergency HVAC Repairs Seven Days A Week
Discovering that you have no heat when it's cold outside or that you have no AC on the hottest day in July is never a fun situation.
To us, any time your equipment is not functioning properly counts as an HVAC emergency repair. We take every issue seriously.
Our repair HVAC techs are available for these emergencies seven days a week, and we encourage you to report issues right away so we can address the problem as soon as possible.
We do wish to note, though, that it is not advisable to diagnose an air conditioner problem in the rain, as it can be dangerous and can cause further damage to the system. The electrical components of an air conditioning system can be hazardous when exposed to water, and the risk of electrocution is high.
Additionally, diagnosing an air conditioner problem in the rain can be challenging as the rain can interfere with the system's operation, making it difficult to diagnose the issue accurately. Water can also cause damage to the unit and make it unsafe to operate.
So it is always best to simply turn off the power to the unit and wait for the rain to stop, then give us a call and we'll be out to you as soon as possible!
Why Choose Hibdon's Heat and Air For HVAC Repair in OKC?
Our company is constantly evolving with the changing landscape in the HVAC industry. We take steps to keep our staff trained and educated on the latest technology and advances in standards and equipment.
You need experience. That's something you'll always get with our HVAC home services. Our air conditioning repair team has a proven track record of providing the highest quality service.
You also need to choose a company that has expertise in a wide variety of AC units and HVAC systems.
With Hibdon's Heat and Air, we value customer service. Our family has been in business for over 60 years in the OKC area. We know our people and it's the reason why our customers choose us.
In addition to our dedication to providing the best services possible, customers choose our family-owned and operated business because we offer:
Free estimates for system replacements
Warranties on parts and labor
Seasonal maintenance specials
A convenient customer portal
Affordable financing options
Year-round maintenance plans
Schedule Your HVAC Repair Service Today
Hibdon's Heat and Air approaches every HVAC repair with our customer's best interests in mind. While just about any issue with a heater or air conditioning unit can be repaired, we will give you our honest assessment and opinion on what steps should be taken.
If it's not economically advisable to complete a repair, we will provide a free estimate on replacement parts or a new system that will offer greater benefit in the long run.
Instead of looking for the best HVAC repair near me, end the search today. Call Hibdon's Heating and Air for your home HVAC repair.
Contact our team to schedule your HVAC repair service today.