Thorough HVAC Maintenance and Tune-Ups
There's no better way to head into the cooling and heating seasons than knowing that your HVAC equipment has been tuned up properly by the professional technicians at Hibdon's Heat and Air in Oklahoma City. We do more than a basic air conditioning check-up! When one of our highly-trained Hibdon's AC experts maintains your air conditioner, your system will be operating at its peak performance!
Getting HVAC maintenance service in OKC–heating tune-ups in Oklahoma City and AC tune-ups in OKC–will make you a very happy homeowner when the seasons change. Winter will come and you'll already be prepared with furnace maintenance. Then, summer will come and your AC will be working just fine. Heating and air tune-ups are essential to maintaining a good temperature throughout the year.
We do wish you to know, though that it is not advisable to tune-up an air conditioner in the rain or when temperatures are below 65 degrees Fahrenheit. Beyond the danger of electrocution to our technicians working with electrical components in the rain, moisture can cause damage inside the system. Additionally, air conditioners are designed to operate within a specific temperature range, typically above 65 degrees. Below this temperature, the refrigerant in the system may not react properly, which will cause difficulty for the technician to get proper readings and levels. So it's always best to remain somewhat flexible when scheduling your tune-up.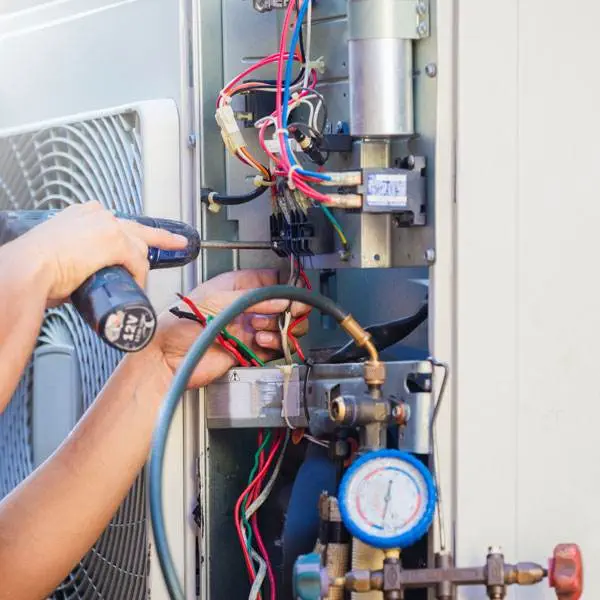 Peace Of Mind With Preseason Servicing
Maintenance and tune-ups are essential to extending the life of HVAC system(s) and ensuring they're not working harder than they need to. Heading into the season is the best time to do it. This schedule gives an opportunity to clean it from the previous season and ensures that everything works properly if it has sat unused for a few months. By going over the essential components and performing a test run on the unit, you'll rest easy knowing it will start when you need it to.
HVAC preventative maintenance is essential to having a heating and cooling system that runs smoothly when the temperature changes. The middle of winter is not the time you want to do your heating system tune-up, and the peak of summer is not the time for air conditioning services. 
Not only will those services be more expensive at those times, because the demand for HVAC maintenance is so high, but you will be stuck waiting in the cold for your heater tune-up–something you will wish you had taken care of before you needed it!
We Target Your AC's Most Critical Components
Our goal is to prevent problems before they happen. Our HVAC technicians perform a complete system analysis that helps identify issues before they become serious problems. This approach leaves you with peace of mind knowing that your air conditioning unit will be ready when put to the test. Among other safety and service checks, our Six-Step Precision Process tune up includes the following:
Duct and equipment connection inspection

Refrigerant level check

Appropriate airflow check

Electrical connections check

Evaluation of air filtration systems

Cleaning of exterior condenser coils
Sign Up For Our Customer Comfort Maintenance Membership
For the ultimate convenience, we offer a Customer Comfort Maintenance Membership. When you join the maintenance plan, you no longer need to worry about scheduling appointments to maintain your air conditioning and heating system. We visit you twice a year to make sure your home is protected year-round. In addition to annual preventative maintenance in Oklahoma City, customers on the plan receive the following benefits:
No dispatching fees

15% service discount

Priority dispatching for emergency calls

No overtime charges

Discounts on additional service
Are you ready for the heating and cooling season?
Make sure that your furnace is running well, your AC is efficient, no carbon monoxide leaks are in your home, and your air filters are changed. A quick call today for an AC or heating tune-up can save you from an emergency call later in the season. 
Contact the pros at Hibdon's Heat and Air to schedule your annual HVAC tune-up. Ask about our Customer Comfort Maintenance Agreement and learn how your seasonal maintenance can become an automatic routine! Your energy bills will thank you.